Learn how to play the piano
Welcome to Piano Lessons Medway UK
My name is Philip Congreave. I am a qualified piano teacher based in in the Medway area of Kent in the South-East of England. I have an Honours degree in Music from the University of Huddersfield, formerly The Polytechnic, Huddersfield. (See certificate here)
I am a member of the Musicians' Union and of the European Piano Teachers Association (EPTA).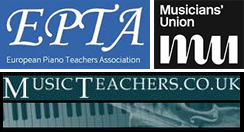 Before you contact me
Please read the "Guidelines for Choosing a Piano Teacher" page on this website carefully before contacting me.
On this page I have directed you to an external source of guidance which will help you decide whether I will be the right piano teacher for your or your child.